SpaceRyde grew from a couple working in their garage, to 30 staff backed by $10 million and championed by Chris Hadfield
Reviews and recommendations are unbiased and products are independently selected. Postmedia may earn an affiliate commission from purchases made through links on this page.
Article content
Sohrab Haghighat always wanted to be an entrepreneur, an aspiration rooted in his youth in the Middle East, when he and his father would bond while watching episodes of Due South. The hokey, late-'90s comedy series starred Canadian actor Paul Gross as an excruciatingly polite Mountie, working the mean streets of Chicago with a far less polite American partner, and a deaf, lip-reading, half-wolf/half-dog from the frozen north named Diefenbaker.
Article content
His takeaway from the show was that Canadians must be, well, excruciatingly polite, and that Canada would therefore be an ideal place to open a business, envisioned in his mind as a breezy, Persian-inspired mountainside café in Niagara Falls, Ont., a place, alas, without any mountains.
"I was telling a friend in Canada about this idea of mine," Haghighat said. "He said, "Maybe you should visit Niagara Falls first, because your idea might not be as implementable as you think."
True enough, the café was not to be, but his entrepreneurial ambitions persisted, albeit with a skyward shift in focus: instead of serving good eats, he and his spouse and business partner, Saharnaz Safari, are aiming for the stars with SpaceRyde, a Canadian space industry startup.
Article content
"We want to be the Uber of space," Haghighat said.
That is, they want to offer paying customers, specifically companies looking to send small satellites into orbit, with an on-demand, affordable means of getting them there via a helium-filled polyurethane balloon.
We want to be the Uber of space

Sohrab Haghighat
Said balloon will rise carrying a "smart" rocket. At 30 kilometres above the earth's surface, the rocket's engines will ignite, and its satellite payload, which could be as small as a shoebox or as large as a mini-fridge, will be delivered to wherever it needs to go in orbit.
If that all sounds a bit too far out there, consider the trajectory of the suburban Toronto company, which has grown from a husband-and-wife duo, toiling away in their two-car garage, to 30 employees backed by $10 million in seed capital and championed by some high-powered mentors, including Chris Hadfield, the country's most celebrated astronaut.
Article content
"The way they are going about things is clever," the one-time commander of the International Space Station said. "People have looked at trying to use balloons in the past, but our automation, and our ability to remotely control and the reliability — it kept being self-defeating — but I think we got a real good shot at being at a moment in history now where we can try to make this work."
The competition is going to be fierce. Elon Musk's Space Exploration Technologies Corp. has emerged as the dominant player in the multi-billion-dollar commercial space launch market. Companies eager to get their small satellites into orbit pay $1.1 million per 200 kilograms, according to SpaceX's fee structure.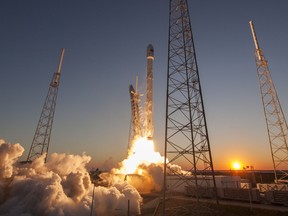 SpaceRyde has pegged its target price at $250,000 per 150 kilograms, a steep discount, but filling a balloon with helium is significantly cheaper than blasting beyond 30 kilometres in a multi-stage rocket from Earth.
Article content
"By launching from a balloon, we are going to bypass all the dense layers of the atmosphere, and it allows us to have a small, efficient and yet very affordable rocket," Haghighat said.
Despite the formidable challenges, he isn't some dreamer without technical expertise. He has a doctorate in aeronautical and astronautical engineering from the University of Toronto, and he spent several years immersed in the San Francisco tech scene as an early employee and, ultimately, a senior engineer at Cruise LLC. General Motors Co. reportedly paid more than US$1 billion to acquire the self-driving vehicle company in March 2016.
"The summer of 2016 was the greatest summer of my life," Haghighat said. "No concert, no event, no trip was out of reach."
Article content
Among the highlights, naturally enjoyed with Safari — herself no academic slouch, with an MBA from Stanford University — were multiple Cirque du Soleil performances, an Adele show and several glorious sunsets in Hawaii.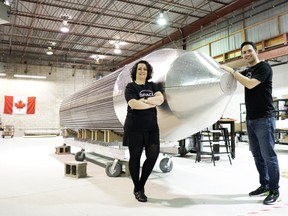 But always hovering in the back of his mind was an idea that the now 40-year-old engineer had been noodling upon ever since daredevil Felix Baumgartner hitched a ride in a balloon-lifted space capsule to 39 kilometres above the Earth, before free-falling back to solid ground.
That 2012 stunt went viral, and Baumgartner's means of transportation stuck with the self-driving car guy, who suddenly had a whack of money at his disposal from the Cruise buyout, a lifelong dream of starting his own company, and a life partner with the business know-how to help get a startup off the ground.
Article content
Moving back to Canada, a country completely lacking in space launch capabilities, was a logical step for a couple who initially met as graduate students at the University of Waterloo in Ontario.
"Sohrab and I do have our disagreements," Safari said. "But we also have different strengths, and so we have different responsibilities with the company. The truly hard part is not talking about work when we get home, on weekends and on holidays. SpaceRyde is our second child."
Their first child is a four-year-old boy. Their first rocket was spray painted blue and built in their garage with three other engineers. Needless to say, the neighbours had questions. But most vexing for Safari was trying to get a permit to launch a balloon-lifted rocket in Canada, a place where no rocket of any kind had launched since the 1990s.
Article content
"I ended up calling everyone who I thought might have something to do with the space industry in Canada," she said.
Eventually, the right person at Transport Canada answered, and a permit was issued for the team's proof-of-concept test launch in North Bay, Ont., three summers ago.
My summer job: Astronaut Roberta Bondar's dark days sending unlucky moths to their deaths

'Don't take no for an answer': Jennifer Wong's remarkable rise from Aritzia salesperson to CEO

Making hay in Margaritaville: Billionaire Canadian developer hits Jimmy Buffett-branded lifestyle community home run

Booster Juice founder goes from corner office to frontlines of Ukrainian refugee crisis
The balloon worked like a charm. But the rocket's engine, a "hobby" rocket, cobbled together from parts purchased off the internet, didn't fire.
Article content
This was a minor hiccup, Haghighat said, that has since turned into a company plus, because safely returning a fully fuelled rocket to Earth via balloon without blowing anything up seems to have eased the permitting process for future launches.
The next dates are tentatively scheduled for 2024, when SpaceRyde plans to send up a weekly balloon carrying a rocket manufactured in the company's new factory in Concord, Ont., which officially opens Tuesday.
Hadfield, the old astronaut and mentor, planned to be there, and snacks and beverages were to be served by a pioneering couple whose favourite weekend getaway is Niagara Falls, a place without mountains.
• Email: [email protected] | Twitter: oconnorwrites




Source Link

Follow more to update News07trends

Most Related Links :
News07trends Business News Technology News